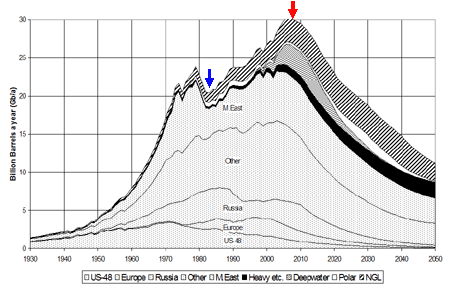 (Graph showing that world-wide oil production is thought to be at its peak and is beginning its terminal decline. Red arrow is the projected historic peak and blue arrow is the dip due to OPEC oil embargo, price spikes and conservation measures. From Grinning Planet website.)
As we celebrate Memorial Day, and honor all those who died for the freedoms that make America great, it is time to speak again of Peak Oil. The fact is that all of freedom's gifts that our fallen protectors fought for can be lost if we don't change our ways, accept our call to this moment in history, and create a moderated transition into a post-oil world. And we have to do it now.
A graph too grim to reproduce here gives us a doomsday version of what might happen if we just keep on keeping on. (For those of you who like horror movies, here is the link, from The Way Home website: http://www.briangordon.ca/wp-content/uploads/2010/01/JS-Peak-Oil.gif)
We are living at an historic moment. World-wide oil production is now the highest it has ever been and the highest it ever will be again. The age of cheap, accessible, easy to get oil is over, forever. We have begun, or will begin within a year or two, the world's "terminal decline" in the extraction and production of oil.
This reduction is a game-changer, inevitable and unavoidable. We have built modernity on affordable, abundant oil. Our food, energy, lighting, transportation and millions of products we use every day for health, medicine, ease and recreation come from or are dependent on cheap oil. Even if no greenhouse gases were emitted burning the stuff, we would still have a crisis on our hands.
As the World Financial blog puts it:
Nowadays, everything is made of crude oil: our clothes, medicine, 90% of all our chemical products and everything else which looks like plastic. There is no day you don´t touch some crude oil except you live alone in the forest, far away from civilisation…

Note: In one hundred years, people will take us for a mug and can´t believe that we really burned this precious commodity within 150 years.
Richard Heinberg of Post Carbon Institute writes on the reality and impact of Peak Oil: "This [the Gulf disaster] is what the end of the oil age looks like. The cheap, easy petroleum is gone; from now on, we will pay steadily more and more for what we put in our gas tanks — more not just in dollars, but in lives and health, in a failed foreign policy that spawns foreign wars and military occupations, and in the lost integrity of the biological systems that sustain life on this planet. The only solution is to do proactively, and sooner, what we will end up doing anyway as a result of resource depletion and economic, environmental, and military ruin: end our dependence on the stuff."

This is not hard to understand. It is only hard to accept. But the truth is simple: over the next 20 years, the ways we live will change, radically. There is nothing we can do to stop that. What we can and must do is manage and control that change, build new ways of living into our expectations and habits, and reclaim what we have lost in our misbegotten pursuit of excess.

This is going to require more from us than using Nalgenes and cloth shopping bags.

For example, Charles Komanoff (whom I had the pleasure to meet and serve on a panel with), crunched the numbers and found that in 2000, 47% of oil use in the United States was due to passenger travel, and 18% due to freight. Which means much of the solution is in our hands. We need to advocate and pay for a change in transportation options and technologies, and we need to check our own habits for how much we contribute to this mess. Now matter how difficult it may be at first, it will be cheaper and less disruptive if we change now than if we wait til oil is rarer still and prices spike beyond what we can support.

The solutions for Peak Oil will be more demanding than those for CO2 emissions. No amount of carbon offsets will give us more oil. We simply must find different ways of living.

In this transition period, it will be helpful to promote the benefits of living and buying local; reclaim the concept of neighborhood; re-ignite our passion for place; live closer to where we work; support local businesses; change travel expectations; support alternative research; and dare to believe that solutions may come from places we cannot now even imagine.

And we need to do it now. For that is the best way to celebrate and carry forward the life of goodness and freedom that our protectors died to preserve.

Posted by